Skip to Content
Treating Elbow Injuries in Hyannis and Sandwich, MA
The elbow is a complex joint involved in pulling, pushing, and forearm rotation. Just as in other joints of the body, there are many processes that can cause elbow pain.
Elbow pain can be caused by injury to the bones that make up the elbow, the muscles that surround the elbow, or the tendons that attach muscle to bone.
Our Elbow Specialists
Jesse Affonso, MD, Timothy Kinkead, MD, Brian Najarian, MD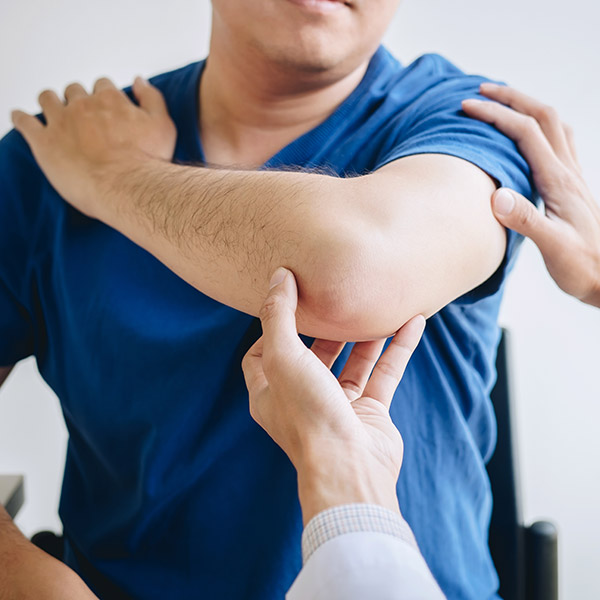 Common Causes of Elbow Pain
Fortunately, most elbow pain is not serious and is the result of overuse or repetitive motions. Just as in all other joints, occasionally arthritis may affect the elbow. However, this is much less common than joints of the lower extremity. Common causes of pain include nerve compression (cubital tunnel or radial tunnel), direct trauma (fractures or dislocation), inflammation of surrounding bursa (olecranon bursitis), and inflammation of tendons on the inside ("golfer's elbow") or outside ("tennis elbow") of the elbow, and arthritis (osteoarthritis or rheumatoid arthritis).
Of course, the proper treatment for elbow pain will depend on the cause. Many times treatment consists of a combination of rest, ice and/or heat, anti-inflammatories, physical therapy, stretching, corticosteroid injections, and in some cases, surgery. While most patients have heard of arthroscopy or replacements of hips and knees, many of those treatments are also available for the elbow (although much less frequently required).
Expert Care Close to Home